I happened across an intriguing video called Undulating Flux produced by David Rednick a DJ, VJ and conduit of radiant light and music.
Resnick, an Arts Computation engineering student at UC Irvine, has rigged up a massage chair controlled by a "Vibrationist' – a dancer holding a Wiimote. Undulating Flux is designed to put you into a 'flow state' such as one experiences in a shamanistic state of unity where there is no distinction between self and environment. Many in the metaphysical community refer to this state as 'Oneness'.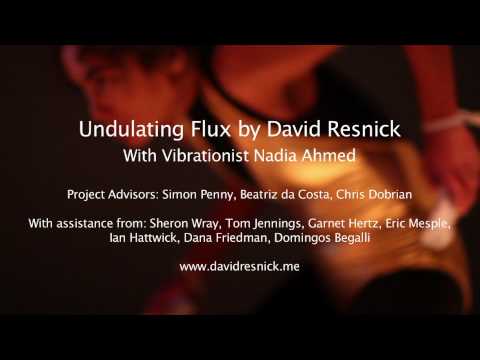 Watching the Vibrationist in his video it's easy to see his inspiration coming through the dancer's experience. Resnick wanted to capture the multi sensory aspects of sound answering questions such as "What does this music look like?" and exploring the idea of thinking within the body as opposed to thinking only with the brain. He named his Undulating Flux experience being in the "flow state" a concept coined by psychologist Mihaly Csikszentmihalyi who defined this state of being as a mind and body connection allowing one to perform at the highest possibility in whatever one might be doing. This state is also referred to as being "in coherence" as coined by HeartMath institute. Years of research have lead state with mind, body and environment unified as one.
Resnick's hope is to produce a way for the participants to not only feel vibrations of the sound, but connect their mind and body creating an overall pleasurable feeling or healing experience. One of the fascinating areas this will lead into is the realm of neuorplasticity. in which sensory deprivation in one area causes a person to use another in its place.
Resnick partnered with Erik Jacobs, a visual artist with a degree in Cognitive Anthropology from Brandeis University to form Love Intelligence Group. Both Erik and David believe in the evolutionary significance of the times we are living in, as well as the particular opportunity for artists of light and sound media to conduct this evolution. it is their intention to manifest an essence of healing, new language, and new harmonic resonance to bring about the next levels of consciousness in our society."
Life couldn't get any better with a mission statement like that.